What is cosplay? Behind the scene of cosplay-making in the gaming world
Ever wonder how the world of cosplay came to be? Let's take a look at the history of cosplay and what it takes to breathe life into a character.
The art of bringing your favorite characters to life has evolved greatly throughout the century. It has always been a way to show our appreciation for fictional (or nonfiction) characters. Cosplay has become a culture of its own in the booming gaming industry. Let's take a look at what cosplay is all about and the hard work and dedication it takes to create a cosplay.
What is cosplay?
Cosplay is actually a portmanteau of the word "costume play". It is a performance art where people dress up as specific characters. The word "cosplay" was coined by Nobuyuki Takahashi, a Japanese film director and producer. The act of dressing up as manga and anime characters was starting to get famous in Japan in 1970. Takahashi and his colleague worked on an article regarding the activity and they decided the word "cosplay" to be the perfect word to express the concept. He described cosplay as "a fan's expression of his or her love for a favorite character".
Nowadays, the favorite source of inspiration for cosplayers comes from popular pop cultures such as anime, comic books, tv shows, movies, and video games.
Cosplay in the gaming world
A clip from My Dress-Up Darling--a 2022 anime about the joy of cosplaying and costume design.
In the video game world, cosplay has bloomed and has become a common feature for fan art, fan gathering, and tournaments. In a lot of esports titles, the cosplay community has grown and they help bring excitement and hype to the competitive scene.
There are also events and conventions which focus on the cosplay community where they gather to celebrate the cosplay world. For example, Gamescom, a trade fair for video games done annually in Germany, also organizes Gamescom cosplay village. The events highlight the art and artist of the cosplay industry and bring together the best of the community for workshops, panels, and competitions.
Behind the scene of cosplay making
The first thing people usually do before starting the process of cosplay-making is to decide which character they want to recreate. Cosplayers usually choose their characters based on the event, whether it's a specific themed event or a very generic one. Usually, the main characters of the inspiration source are the most popular characters among cosplayers. Moreover, people generally choose human-like characters as they are easier to be recreated compared to animals or alien-like characters.
Planning
After choosing the characters, the cosplayers will collect all references regarding the character from different angles. They will outline the character's most obvious signature looks, from the hair to the outfit and all the accessories. A more experienced cosplayer will push their capabilities to create more intricate details. However, for beginners, it is always advisable to go the simple route and nail the basics.
Designing
Once the cosplayers decide what they need for their cosplay, it is time to do the designing. A simple and easy way to do it is to search for a cosplay outfit. If the character is popular or in mainstream media, most probably the outfits are already available in costume shops or online shops.
Another easier way to create cosplay is to find the closest-looking outfit to the character's design. Cosplayers can first browse through their wardrobes for similar-looking clothes. If needed, they can also browse through shops and thrift stores.
Those who have crafty hands and want to DIY everything will go wild with their project. Designing a project by themselves enables them to tailor the costumes to their bodies and remake the costumes as accurately as they like. If the cosplayers want to take out their thread and needles, they will first find sewing patterns if it is available to save some time.
Meanwhile, cosplayers who love a little bit of tech can go for 3D printing. Creating a 3D print requires them to create the 3D model using preferred programs. Some 3D models of popular items are already available online by other fans, so the cosplayers can skip all the designing and skip to the printing part.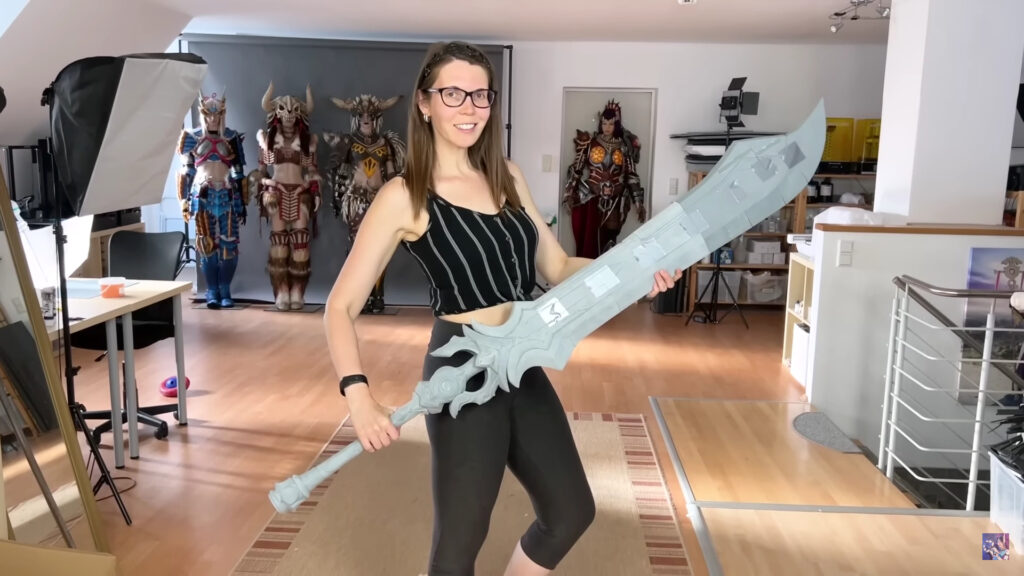 What materials are usually used to make cosplay?
There are a few things to do before choosing the materials. Choosing the wrong materials can result in tacky-looking costumes. Shiny fabrics and items are usually not advisable since they will not look good in photographs. Cosplayers will usually choose the materials based on their designs, budget, availability, and weather.
The design of the original costumes will mostly include fabrics and in common cases, metal items and jewellery. When choosing materials, some people will set budgets to keep things affordable. Furthermore, some items are not always available locally so cosplayers will have to make do with whatever materials they can get their hands on. One important aspect in choosing materials is the comfortability of the costumes in the local weather. It will determine the thickness and layers of the costumes.
What fabric is suitable to make cosplay?
If we are talking fabrics, there are gazillion types of fabrics for cosplayers to experiment with to create a certain look. The most famous material is the good, old, standard cotton fabric. Cosplayers can use cotton to create almost any costumes as they are very common, easy to work with, and comes in a variety of colors. To create more layers and flowy costumes, the cosplayers use thinner kinds of cotton, like linen and cotton lawn. Meanwhile, thicker kinds of cotton, like canvas and denim, are perfect to create more rigid costumes.
To create layers and soft, transparent costumes, cosplayers usually go for materials like chiffon and organza. It will add an effortless flow to costumes like veils and skirts. Tulle is a stiffer fabric that can add volumes to your costumes, such as petticoats for gowns and dresses or outside layers for tutus and epaulets.
For costumes like capes, cosplayers tend to go for a heavier fabric that hangs nicely such as velvet and flannel. Wools is also suitable for capes, as well as coats and uniforms.
Materials to create armor and weapons
Armor is a common costume for video game cosplayers. To make the cosplay, people will avoid using real metal as it is a bit heavy, excessive, and expensive. To create armor look-a-like, materials like Ethylene-vinyl acetate (EVA) foam are perfect to mimic the sturdiness of armor. It is strong, flexible, cheap, and definitely a favorite material to work with among cosplayers.
Some cosplayers also use certain types of clay or urethane resin to sculpt the cosplay. For example, Mike Biasi created a stunning wearable cosplay of Grommash Hellscream from World of Warcraft and was declared the winner of the Blizzard Cosplay in 2016. It is a blend of materials with clay and resin for the armor and EVA foam for the boots.
Grommash Hellscream by Mike Biasi, winner of Blizzard Cosplay in 2016
For items like swords and shields, cosplayers usually go for either foam, cardboard, or PVC pipes as it is the easiest and cheapest to work with. Some might use wood but that requires a specific set of skills and is much harder to maintain. For larger items like hammers, cosplayers can use styrofoam as the base because of the lightness of the material.
Crystal Maiden cosplay from Dota 2 (Image by Rinoko Cosplay)
Materials for accessories and miscellaneous items
For gemstones, cosplayers can use resin to recreate the transparency and magical elements of fictional jewelry. The process is a bit tedious but it can result in beautiful gems of all the colours in the spectrum. Resin is usually used for smaller pieces of items but it can also be used for armors and body plates. For example, you can check out Pretzl Cosplay's resin work on making the centerpiece gem for Star Guardian Xayahcosplay from League of Legends.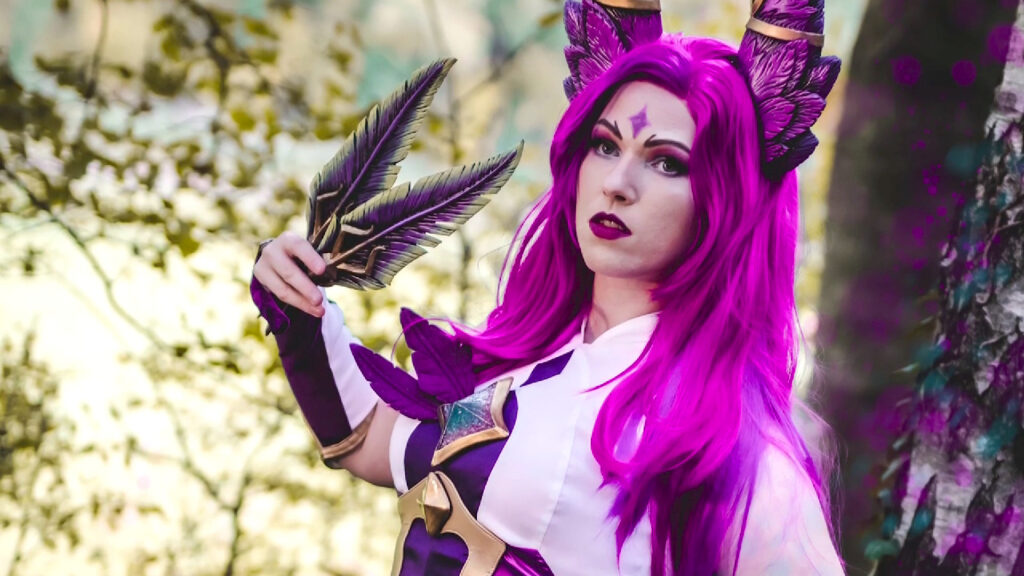 Wires are the backbones of flexible items. Cosplayers can go crazy with the designs of wings, ears, headpieces, and jewelry with just a few twists and turns of wires. The structure of wires is usually then covered with cardboard, fabric, or clay.
It's time for the finishing touches. To achieve a certain color, cosplayers can mix together fabric dyes to color the fabrics to the desired colors. For other materials, cosplayers can spray paint or hand paint the materials using acrylic paint. To create metallic-looking items, there are metallic variations of both spray paint and acrylic paint.
What tools are needed to make cosplay?
A sewing machine is practically a must in creating cosplays. Other materials require specific types of tools. For EVA foam, a hot knife and heat gun are needed to cut and form the foam. PVC pipes will require a suitable saw to cut them into pieces. If the cosplayers are working with wires, they will need clamps and pliers.
If 3D prints are involved, 3D printers are a must. Sending the design to a professional 3D print shop will definitely be easier but not so forgivable on your budget.
Creation time - how long does it take to make cosplay?
According to multiple sources, the amount of time it will take to create a cosplay depends on a lot of factors. The range can go from a few hours to a few years. It also, once again, depends on the materials, budgets, and availability. Cosplayers also need the hours dedicated to creating the cosplays so time flexibility also plays a role. Overall, before starting a cosplay project, cosplayers need to estimate the time based on all the variables so it can be done in the targeted timeline.
Makeup and finishing touch
Once everything is put together, cosplayers will decide on the finishing touch. They can recreate the hairstyles manually or use a wig. The makeup products are then decided based on the final look and the durability of said products. This is important as cosplayers will usually spend a lot of time in the costume so the makeup products need to last as long as they can.
Cosplaying and role-playing
How does the character walk? How do they talk? Some cosplayers take it to the next level by mimicking their exact behavior. They imitate the mannerism and their famous quotes. Role-playing the characters accurately will definitely leave a lasting impression on other people and will make it seem like they are interacting with the real character in real life.
Overall, the cosplay world has evolved to be essential in the modern era of the gaming world. The hours of work cosplayers put in to breathe life into the characters we all love and care about are definitely worth it.