The Force returns to Fortnite once again!
Fortnite's v26.20 patch dropped early this morning, swapping out My Hero Academia for Star Wars. The latest Fortnite x Star Wars crossover celebrates Ahsoka's arrival, who is now unlockable via the Battle Pass.
In addition to the Ahsoka cosmetics, The Force has returned, allowing players to become one with The Force and wield lightsabers on the Island. There are some other noteworthy inclusions in this update, so let's cover all of them!
May The Force Be With You … in Fortnite patch v26.20
Image Credit: Epic Games
Like the Chapter 4 Season 2 crossover, Fortnite x Star Wars returns in Season 4 with more Force abilities. To access those abilities, locate an Ahsoka Tano hologram around the Island.
After speaking with Ahsoka, you will enter a Rift and re-emerge with Force powers and Lightsaber skills. Those who learn The Force successfully will field Ahsoka's patented white Lightsaber.
You can use The Force to sprint faster, double jump, and push objects and players away. These abilities will be available in-game until patch v26.30.
How to unlock Ahsoka Tano in Fortnite
Coinciding with the ongoing Disney+ "Ahsoka" series, the character has made her long-awaited debut in Fortnite patch v26.20. The Jedi is an additional Battle Pass character that can only be unlocked by completing various Quests.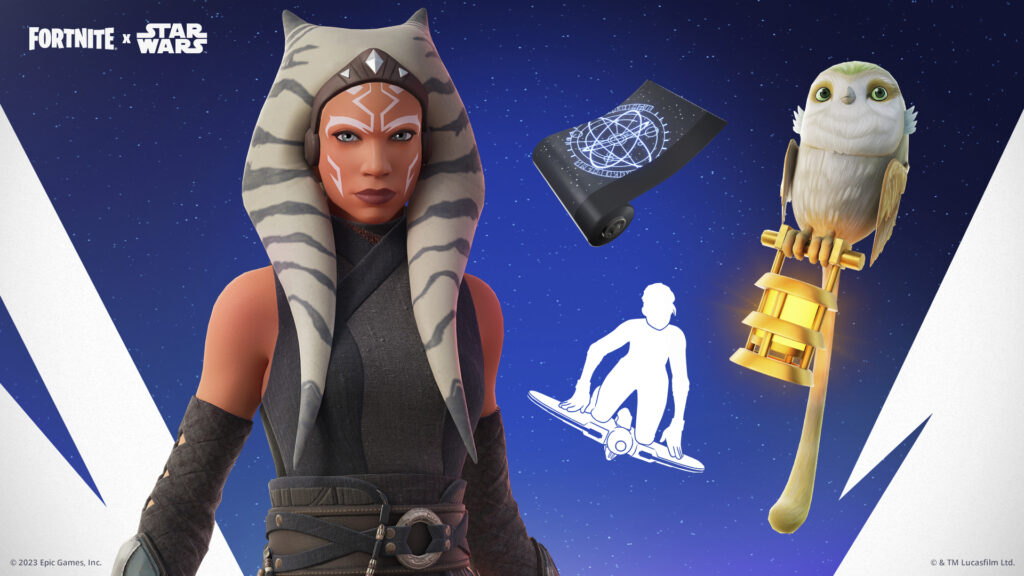 Collect Fulcrum Tokens in Relentless Retreat or Breakwater Bay (0/3) – Ahsoka Tano Skin
Collect Fulcrum Tokens in Kenjutsu Crossing or Slappy Shores (0/3) – Unlocks Morai Backbling
Collect Fulcrum Tokens in Sanguine Suites or Rumble Ruins (0/3) – Unlocks Star Map Wrap
Gain Shields (0/1000) – Unlocks Lil' T-6 Shuttle Emote
Be the first player to land, search a chest, or eliminate a player in a match – Unlocks Fulcrum Ascending Loading Screen
Survive storm circles while carrying a weapon of Legendary rarity or higher – Unlocks Banner Icon
Damage opponents with a melee weapon (0/250) – Unlocks Ahsoka's Staff Pickaxe
Complete a job from a job board – Unlocks Ready Rebel Spray
Damage opponents farther than 20 meters (0/1,500) – Unlocks Watchful Companion Emoticon
New Reality Augments: Marksman Headshots
Image Credit: Epic Games
A Reality Augment — Marksman Headshots — has emerged through the Fortnite v26.20 patch. The Marksman Headshots perk increases the user's headshot damage on Marksman weapons, such as the DMR.
Soaring Sprints and More Parkour have returned in the latest update. These two abilities allow you to jump higher when sprinting and regenerate energy when mantling.
Ranked Solo Zero Build returns in Fortnite patch v26.20
Image via Epic Games
Ranked Solo Zero Build is back by popular demand but in a limited capacity. For some regions, the playlist will only be playable for certain hours of the day.
Here are the times Ranked Solo Zero Build will be available per region according to the Fortnite patch v26.20 notes:
NA-East
NA-Central
All week: 3 PM - 7 AM UTC (11 AM - 3 AM EDT / 10 AM - 2 AM CDT)
NA-West
All week: 3 PM - 8 AM UTC (11 AM - 4 AM EDT / 8 AM - 1 AM PDT)
Europe
Oceania
Monday - Friday: 4 AM - 11 AM UTC (12 AM - 7 AM EDT)
Saturday - Sunday: 1 AM - 12 PM UTC (9 PM - 8 AM EDT)
Brazil
Monday - Friday: 4 PM - 3 AM UTC (12 PM EDT - 11 PM EDT)
Saturday - Sunday: 3 PM - 4 AM UTC (11 AM EDT - 12 AM EDT)
Asia
Monday - Friday: 2 AM - 3 PM UTC (10 PM EDT - 11 AM EDT)
Saturday - Sunday: 2 AM - 4 PM UTC (10 PM EDT - 12 PM EDT)
Middle East
Notable weapon changes
Zyg and Choppy's Ray Gun charges and fires.
TNTina's Ka-Boom Bow charges, reloads, and recharges faster.
Slurp Juice drops with less quantity.
Havoc Suppressed Assault Rifle has increased damage and faster fire rate.
The Foundation's MK-Seven Assault Rifle has reduced damage and a slightly slower fire rate.
Sticky Grenade Launcher has a slower fire rate and a longer reload time. We've added a cooldown when swapping between two Launchers.
Gunnar's Stinger SMG deals slightly more damage per bullet with decreased vertical recoil.