ALGS Split 2 Playoffs date and location revealed
The ALGS Split 2 Playoffs will be returning to the Copper Box, and will be held between July 13 and 16.
The ALGS Split 2 Playoffs will be held at the Copper Box London, between July 13 to 16.
Despite the location being the same as the Split 1 Playoffs, EA are making an adjustment to the event. All games will now be broadcast on the main stage. This means the infamous 'B Stage' is no more. A change likely to be incredibly popular with both players and fans.
EA are also promising more fan engagement opportunities at the ALGS Split 2 Playoffs. "Meet and greets, giveaways and more" will be on offer for fans who attend.
ALGS Split 2 Playoffs return to the Copperbox
The Copper Box will be familiar to Apex Legends fans. The former Olympic venue was also the location of the Split 1 Playoffs back in February. The playoffs will now be a full four day affair, to account for the extra time needed to feature all group stage matches on the main stage.
All matches taking place on the main stage will mean that the popular command centre is in action for every game of the ALGS Split 2 Playoffs.
The Copper Box, London will host the ALGS Split 2 Playoffs (Photo EA/Joe Brady)
Format and where to watch
July 13 and 14 will comprise of the group stage matches. Teams will be split into four groups, with each group playing one six game series against each other. Then, Saturday July 15 will see the stakes go up a notch as the Split 2 Playoffs reach the bracket stage. This will be the ALGS classic double elimination format. Then Sunday, July 16 will host the Match Point format finals and a winner will be crowned.
All competition days will be streamed live from the Copper Box Arena on the ALGS Twitch and YouTube channels. Additionally, the famous ALGS watch parties will be in action on NiceWiggs Twitch channel.
Can TSM defend their title at the ALGS Split 2 Playoffs? (Photo EA/Joe Brady)
How can I get tickets to the ALGS Split 2 Playoffs?
The ALGS Split 2 Playoffs will once again be in front of a live audience, and tickets go on sale soon. Tickets for this event will be available for purchase starting May 15, 2023 at 08:00 PDT.
Where can I purchase tickets to the Split 2 Playoffs?
Tickets will be available online via Eventbrite.

How much do tickets cost; are they single-day tickets, or good for the entire weekend?
Single-day and 4-day tickets (good for all event days) are available. Visit Eventbrite for pricing and details.

Is seating assigned or GA?
Tickets are General Admission; seats are not assigned.

Where is the Copper Box Arena?
The Copper Box Arena is located in London, England. The address for the Copper Box Arena is Queen Elizabeth Olympic Park, London E20 3HB, United Kingdom.
Which teams are competing at the ALGS Split 2 Playoffs?
Also heading to London are the likes of NRG, Alliance, FURIA and FNATIC. Some giants, like FURIA and OpTic who missed the Split 1 Playoffs will be headed to London this time.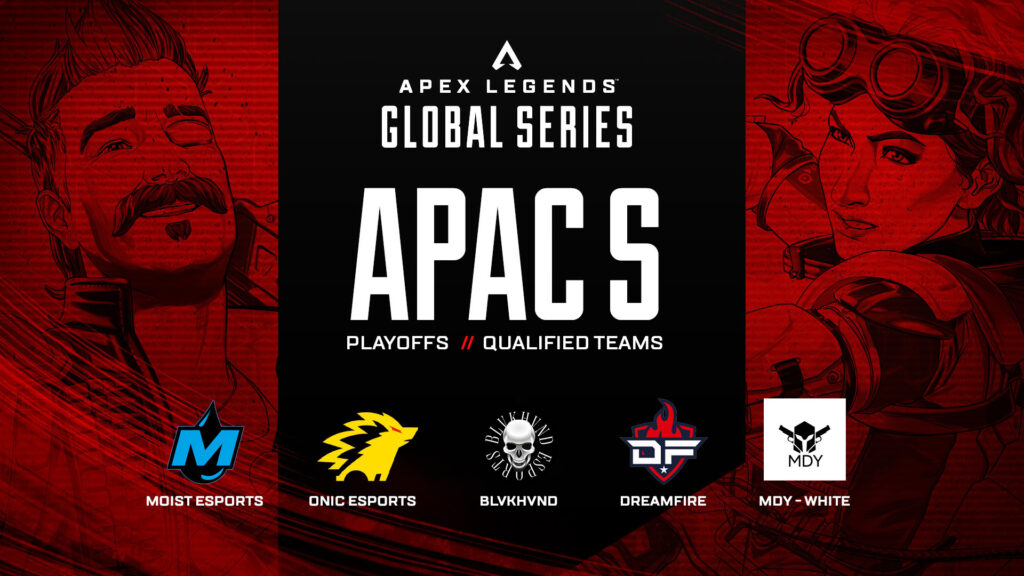 Teams will be competing for both Playoff points and a share of the $1million prize pool in London. However, some teams have already qualified for the ALGS Championship purely from their Split 1 Playoff performance.
Prizing breakdown
| | | | |
| --- | --- | --- | --- |
| PLACEMENT | AMOUNT | PLACEMENT | AMOUNT |
| 1st | $300,000 | 11th | $16,000 |
| 2nd | $160,000 | 12th | $15,000 |
| 3rd | $105,000 | 13th | $14,000 |
| 4th | $85,000 | 14th | $13,000 |
| 5th | $65,000 | 15th | $12,000 |
| 6th | $50,000 | 16th | $11,000 |
| 7th | $40,000 | 17th | $10,500 |
| 8th | $30,000 | 18th | $10,000 |
| 9th | $25,000 | 19th | $9,500 |
| 10th | $20,000 | 20th | $9,000 |
Once again, only the top 20 teams will earn any prize money, half the teams will leave the ALGS Split 2 Playoffs empty handed.
Stay tuned to esports.gg for more Apex Legends coverage and esports news.