Get ready to Kickstart the new Apex Legends board game
The Apex Legends Board Game is here! Join us as we break down all the information we know so far and how to get your hands on it!
What is the Apex Legends Board Game?
The Apex Legends Board game is a team versus team competition of two to four players. It emulates the battle royale we've all come to know and love by utilizing a modular board to create different landscapes. Players will utilize miniature versions of Legends like Wraith, Bloodhound, Bangalore or Gibraltar to battle it out in a two versus two matchup.
Although the rules aren't published, some information can be gleaned from the released trailer. The game is played on a modular board--meaning that there are tons of different combinations and configurations of boards to play on.
The main game comes with tons of terrain and buildings so each time you play is unique. And on this board there are Supply Bins, Care Packages or Respawn Beacons to help you in your fight. All the while, the ring--represented by miniatures as well--inches in closer and closer each round.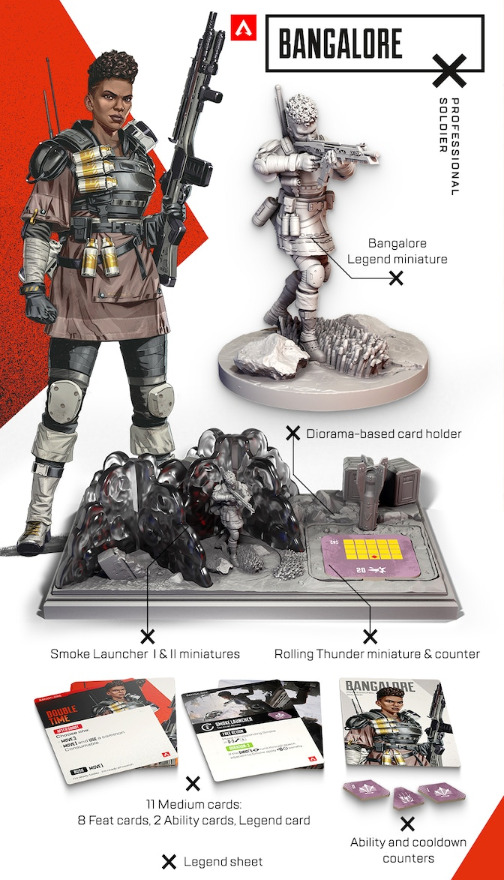 Players won't just be fighting head to head with the loot they find, but with legend specific abilities that have been translated to card form.
Additionally, weapons and other loot will be displayed in card form. Be ready to grab your favorite.
How to get the game
The Kickstarter for the Apex Legends Board Game is live. The project already has over 1200 backers and has raised over $30,000. There are 5 different tiers of pledges, ranging from one dollar to $225. Each of the different tiers include different rewards, with the rewards being different expansion packs.
You can follow the link here to the Kickstarter website to find out more information.
Stick around on esports.gg for more esports news and updates.